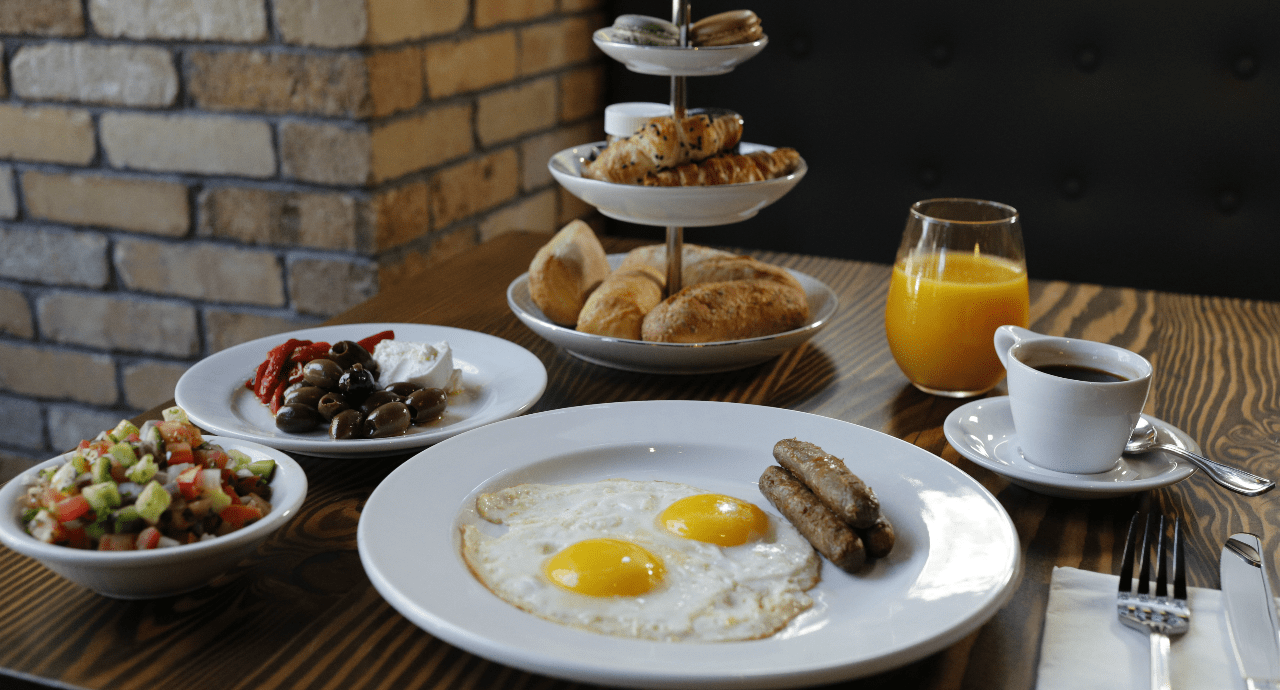 It's Gonna Be a Great Morning!
Brunch
MENU
SAN FRANCISCO LOCATION ONLY
Sat: 10:30am-10pm
Sun: 10:30am-9pm
Oren's Hash & Eggs

 
Two eggs any style, turkey sausage, Oren's Hash (potatoes, eggplant, peppers and onions) 15.00
Hummus Benedict

 
Two eggs any style on toast with hummus and red bell peppers, Oren's Hash, and spicy mayo 14.00
Challah French Toast

 
Whipped cream, strawberries & maple syrup 14.00
Gluten Free Quiche (GF)
Turkey sausage, red bell peppers, red onion, and a blend of cheeses in a gluten free crust with a side of fruit or Israeli salad 14.00
Smoked Salmon Plate
Thinly sliced smoked salmon, dill labane, marinated beets, red onion, sliced tomato, and cucumber 17.00
Israeli Breakfast
Two eggs any style, Israeli salad, fresh goat cheese with olives & roasted peppers, tahini and matbucha 22.00
Includes fresh juice and an espresso drink
+ Add turkey sausage (3 pc) 4.95
+ Add Oren's Hash 5.00
Traditional Shakshuka (GF)
Two organic eggs, poached, over medium in our spiced tomato sauce, with challah toast 17.00
+ Add diced turkey sausage (3 links) 4.95
+ Add mozzarella and pesto 3.50
Sausage, Egg & Cheese Pita

 
Turkey sausage, scrambled eggs and cheddar cheese in a pita. 14.00
Shakshuka Pita
Scrambled eggs, traditional red shakshuka sauce, and mozzarella cheese in a pita. 14.00
Bread Tower
Assorted fresh breads, petite croissant, nutella, butter & jam 12.00
Oren's Hash (V)
Potatoes, eggplant, red pepper and onion 6.00
Israeli Salad (GF, V)
Chopped cucumber, tomato, red onion, parsley, with lemon vinaigrette  6.00
Borekas

 
Flakey phyllo dough with your choice of filling: Mushroom, cheese or potato 4.00each / 6 for 20.00
Hummus & Beet Toast  
Marinated beets, hummus, and goat cheese on toast, with Balsamic reduction and chives 14.00
Two Eggs (GF) 
Any style 5.00
Turkey Sausage (GF) 
Three links 5.00
Side of Hummus (V) 
Freshly prepared with chickpeas from Israel, served with one pita 6.00
Handmade Baklava
Crispy and delicious (2 pieces) 8.00
Challah Toast (GF, V)
Two pieces with butter 4.00
A 3% living wage surcharge (5% in San Francisco) is added to all purchases. 100% of this surcharge is used to support living wages and health insurance for our employees. Thank you for your support.
In an effort to reduce single-use waste, we provide straws, utensils, and sauces for take-out or to go orders upon request only.